The Tangente is considered the flagship model of Nomos. The watch was introduced in 1992 and is available in multiple dimensions and special editions. Reference 101 is the classic version and comes in a 35mm size. The large lugs make up for the small diameter in contemporary standards.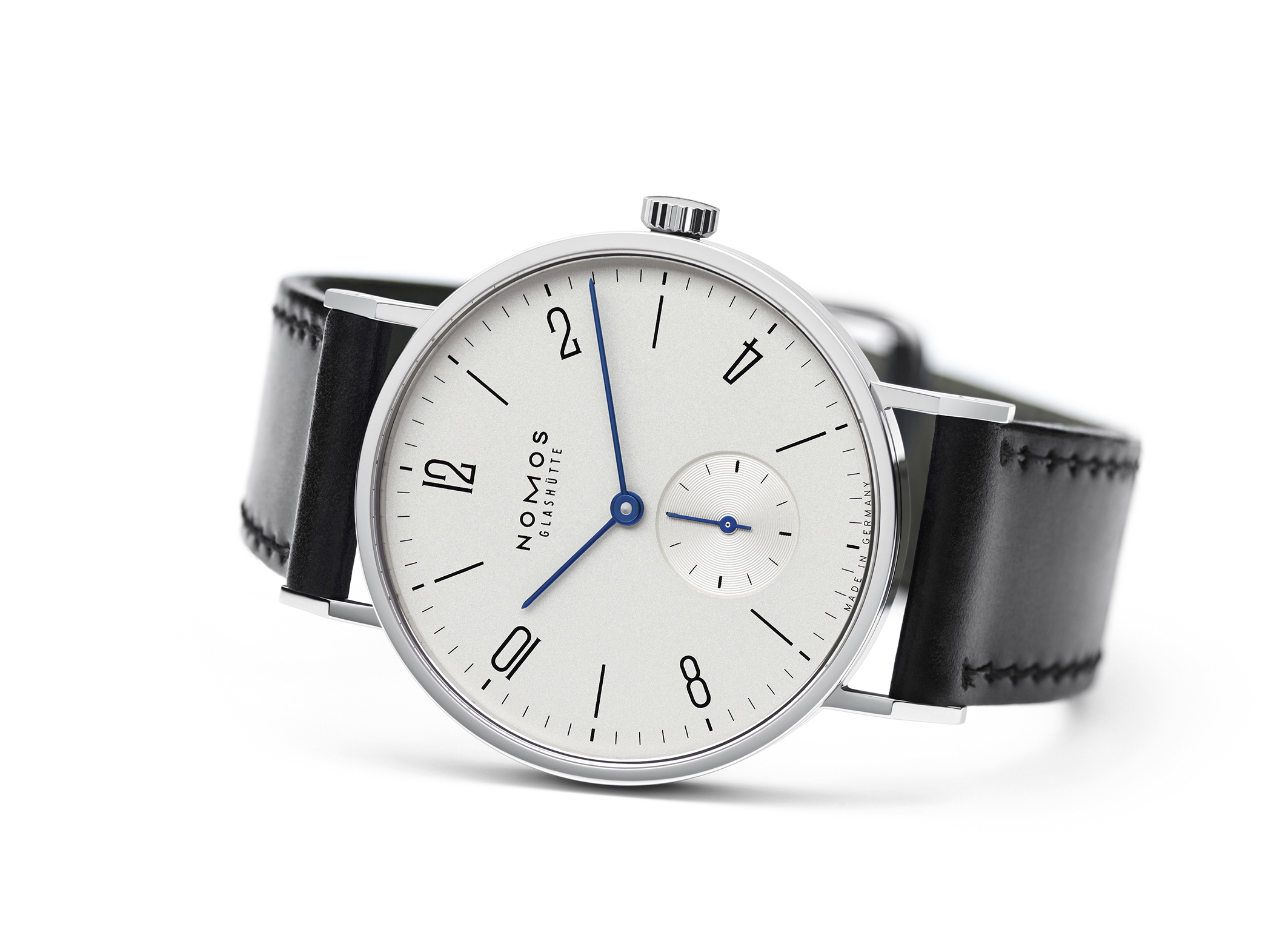 History
Nomos Glashütte is a German watchmaking company based in Glashütte, Saxony. The company was founded in 1990, only two months after the fall of the Berlin Wall. The designs of the collection are influenced by the minimalist Bauhaus style. The absence of centuries of watchmaking experience has helped the brand to create fresh and minimalist designs that are unlike anything else on the market. In 2005 Nomos started to use only inhouse manufactured movements.
Tangente
The watch itself is very slender and sits very low to the wrist, an refreshing aesthetic in the times of bigger contemporary watches. The case is light and very comfortable to wear for an extended period of time. The case is polished all over. This makes the watch stand out on the wrist despite the small size as it reflects light. However, the watch attracts scratches that tarnishes the polishing. The relative softness of 316L steel does not help with this.
With the lugs extending far out from the case, the Tangente looks much bigger on the wrist than its 35mm diameter would indicate.
The watch is very versatile when it comes to strap options. Hipster suede, chill nato or business cordovan.. anything goes. The simple design helps the watch to adapt.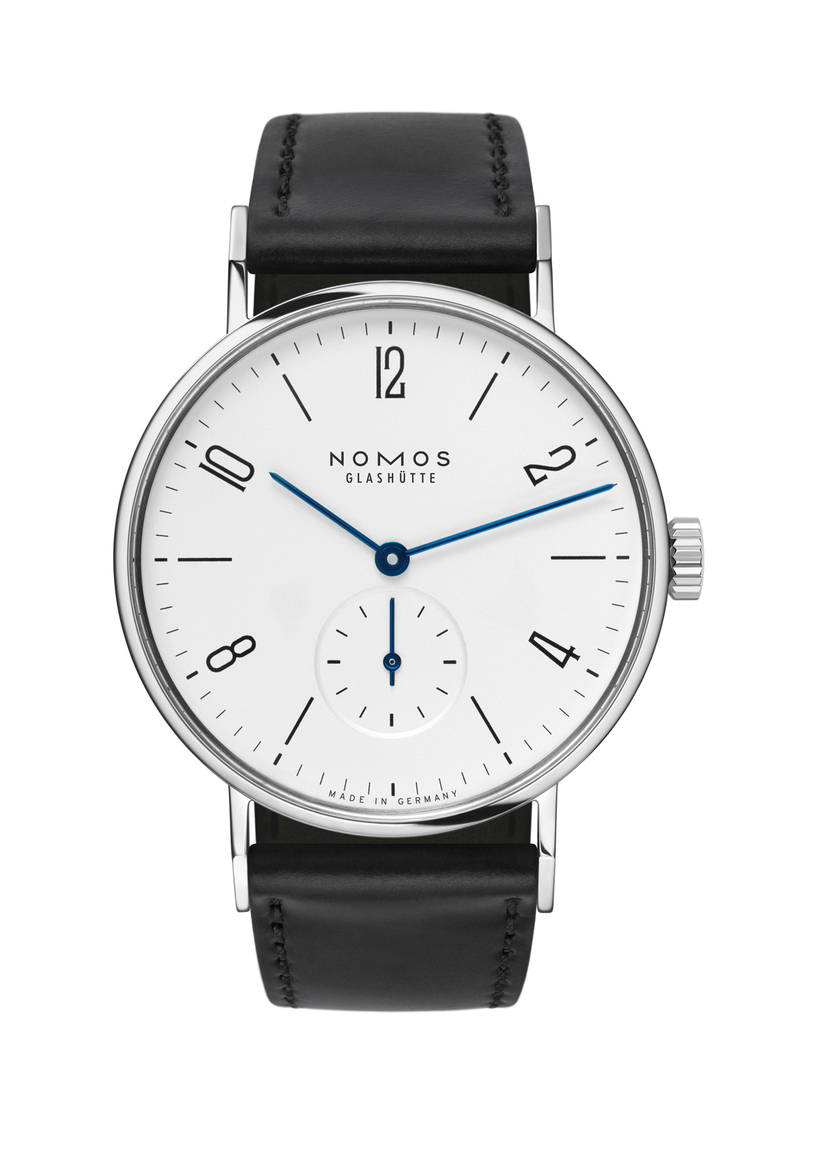 The dial is made out of galvanized steel plated in silver, which gives it a nice texture when viewed from certain angles. The Tangente reacts to light in different directions. The arabic numerals and stick markers support the well spaced typography. The Nomos own design team in the hipster district of Berlin (Kreuzberg) is showing off.
The hands of the watch are all "heat-blued" and add some color to the otherwise monochrome dial. The hands are also perfectly dimensioned and pass over the respective markes without blocking the view.
The dial design is a distinctly Nomos one and I'm a big fan of it.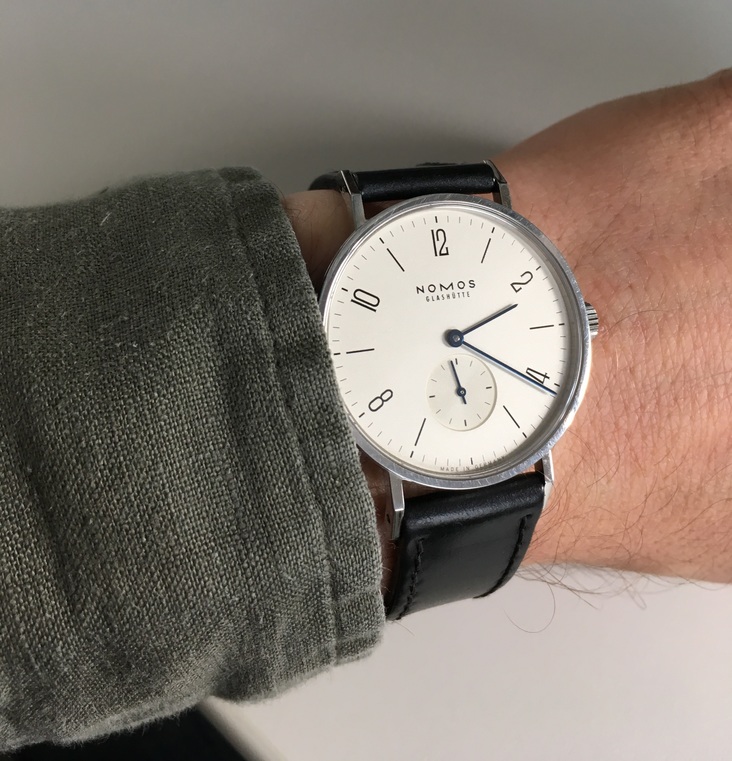 The movement of the watch is inhouse manufactured and called α by Nomos. The design of the movement is however a manual wind ETA 7001. The stock strap is a black Horween shell cordovan strap. The buckle is a tang-styled one with a engraved Nomos insignia.
Specifications
Model Number: Nomos Tangente 35 Ref. 101
Movement: Nomos Alpha
Case Material: 316L Stainless Steel
Glass Material: Sapphire Crystal
Lug Width: 18mm
Diameter/Height: 35 mm/6.6 mm
Conclusion
This watch has rightly earned many awards but design is also polarizing. The minimalistic Bauhaus style doesn't sit well with everybody. I have worn this watch for extended times and like the varity it provides to my collection.